Course details
Craft beer is OK! 120 minutes All you can drink 8 items 5000 yen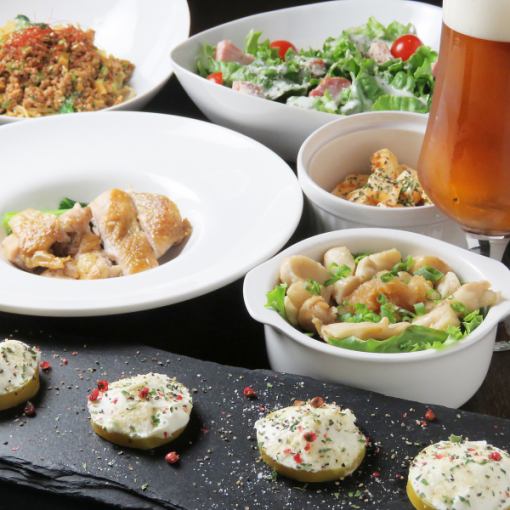 By using a coupon5000 Yen
tax included
All-you-can-drink available

Four different types of craft beer and all you can drink cocktail and so on, depending on the day! 2 hour system, 30 minutes before the last order.
Reservation deadline

Coming up to 2 days before 23 o'clock in the desired date
Available days for reservation

Monday · Wednesday · Sunday · Holiday before holidays · Holidays
Four kinds of tap Marche's craft beer are all-you-can-drink course.
Course menu
Smoked Tucan and Mascarpone
Ashes cream cheese
Bonjiri Grilled Ponang
Caesar salad with smoked bacon
Potato fly anchovy butter
Chicken sauté honey mustard sauce
Braised beef streak with black beer
Bottled noodles with no soup of the end
All-you-can-drink menu
· 496
· Style: richness like IPL ale and dense hop feel like a lager Alc 6.5%
· COPELAND
· Style: Pilsner Taste and sweetness of malt, taste of complicated harmony of aroma hop's fine scent and bitter taste.Alc 5.5%
· Afterdark
· Style: Black Lager Lucky swells like a latte and a clear drinking mouth.It combines sweetness and ease of taste with soft sweetness and fine bitterness.Alc6%
· On the cloud
· Style: Wheat Ale Fruity hops smell refreshingly.Night softness with wheat, fruity aroma like white wine.Alc5.4%
· Daydream
· Style: Japanese white stands softly, Yuzu and peppers.Unique scent and delicacy are attractive.White beer using Japanese material.Alc5%
· LAZZ BERRY
· Style: fruit beer Raspberry playing harmony.It features a refreshing drinking spot and gorgeous ruby ​​color.Alc5%
· Yonayo Yale
- Style: Pale ale A vivid and gorgeous cascade hop scent.A lingering finish that lasts until the end of drinking.American pale ale which is leading the Japanese craft beer community.Alc5.5%
· Brooklyn Lager
· Style: Amber Lager A very popular craft beer in New York.You can enjoy a refreshing drinking spout and the fragrance of ornate hops and the finish of caramel malt.Alc5%
· Hitachi Nature Nest White Ale
· Style: Belgian white coriander, orange peel, nutmeg and light turbid wheat beer.It features a refreshing fragrance and soft taste by herbs.Alc5.5%
· Hell Terraney nest nesting altitude ale
· Style: IPA IPA using Ibaraki special product "Fukuoka oranges".The bitter taste and fruity aroma of fruits exquisitely matched the taste.Alc6%
· Hitachi None Nest Lager
· Style: lager beer with exhilarating fragrance by lager aroma hop.While feeling the rich flavor of malt, you can enjoy fresh throat with good refreshing feeling.Alc5.5%
·Cocktail
· 35 kinds of beer cocktail, cider cocktail, sparkling wine of barrel raw etc.
·Soft drink
· 10 kinds of non alcohol beer etc.
Coupons that can be used with this course
2018/07/04 update